How to help my child prepare for the Olympiad Exam?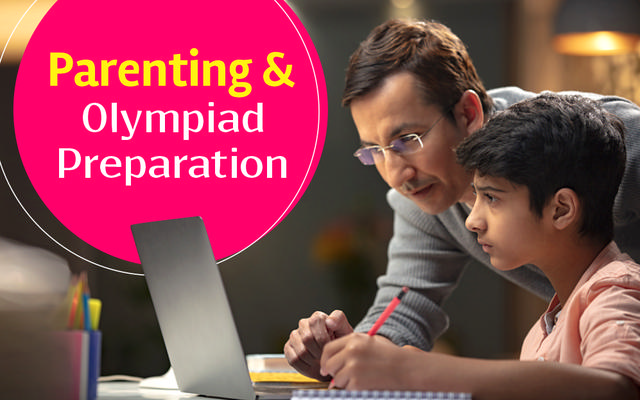 How to help my child prepare for the Olympiad Exam?
Parenting can be tough when it comes to children and examinations. How should my child prepare to appear and get a merit position in the Olympiad exam? This question resides in every parent's mind who enrols their children in Olympiad examinations. To add to this, students already have their school academics. This causes a dilemma in parents' minds. Do not be scared! We have some tips for parents to aid in their children's olympiad preparation. The parents play a major role in a child's academics including olympiad preparation. They can guide them and help them make correct decisions. Here is how you can do your bit and prepare young kids for Olympiad with our ultimate parent guide for Olympiad preparation.
a. Help them understand the Olympiad Examination and its Importance.
One of the best ways to help your child with olympiad preparation is by making him/her understand the olympiad and its benefits. Young learners might have a lot of queries about having to give additional exams other than school exams. They must be made to understand that in the future, any exam that they will give like JEE, NEET, CAT, UPSC, etc., will require skills like problem-solving, critical thinking, analytical thinking, etc. Olympiad examinations offer benefits like enhancing academic performance, paving a career path, and building skills like critical thinking and problem-solving, etc.
b. Help them know the difference between Regular Academic Studies & Olympiad Preparation
Parents can play a significant role in making the students understand the difference between preparing for school exams and preparing for olympiads. While school exams focus on direct question-answer patterns, olympiads ask questions that apply a concept to solve the problem. Parents can explain the difference between the two with a simple example. While school academics teach a concept, the olympiad examination asks to apply that concept to solve a problem.
c. Help them choose the right subject/ books/ study material
All efforts are futile if the course material selected is not up to the standard of the Olympiad exams. Help your child choose the best and error-free textbooks, workbooks, question papers, study materials, mock tests, and solutions.
d. Help them develop a strong conceptual foundation
The conceptual foundation must be strong to secure a merit position in olympiads. Since these examinations' questions are trickier and test the understanding of the concepts, you can help your child have a better grip on the concepts by enrolling him/her in a Preparation Package.
e. Teach them time management (managing school curriculum and olympiad preparation simultaneously)
It becomes a parent's job to ensure that the children follow the routine set beforehand to maintain a balance between school academics and olympiad preparation. Make a daily schedule with your child and help him/her follow it. Ensure that at least some time is dedicated to exam preparation every day. This way, they will smoothly prepare for olympiads without lagging in their school academics.
f. Develop the right skills
Preparing and acing olympiad examinations requires skills like critical thinking, observation, assessment, and problem-solving, among others. Olympiad exam without preparation is like working without a direction.Help your child build and polish such skills either through real-time games that enhance these qualities or by enrolling them in Skill Development Courses.
g. Celebrating milestones and little achievements
Remember a child will perform his/her best when realistic expectations are set. Set small goals and reward them every time they reach their daily goals. This should not be compared to bribing them to perform better. Follow ways in which your child is motivated to do better and celebrate every milestone during his/her preparation.
h. By giving a healthy and positive environment at home
A healthy and peaceful environment at home is crucial for a child to focus on his/her studies. The environment at home plays a major role in exam preparation. Make sure your child gets enough sleep, a healthy diet, and peace of mind to focus on the preparation.
Every child is unique and has his/her talents and calibre. You must not compare them with other children and not force them into working hard beyond their capacity. Having a realistic approach is the ultimate parent guide for Olympiad preparation and you must not impose your ambitions on your child. These tips, if followed, can prove to be beneficial and aid in the preparation of your child for olympiad examinations.